Yoga Journal: Step By Step - The Total Guide to Managing Stress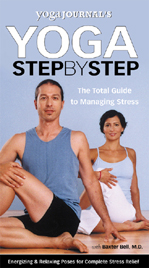 Yoga Journal presents a Lobitos Creek Ranch production: Step By Step - The Total Guide to Managing Stress, featuring Baxter Bell M.D. An acclaimed physician Dr. Bell is equally versatile in Western and Eastern medical practices.
Users will learn how to choose the relaxation response instead the stress response in this innovative WebDVD published product.
A unique timer feature has been has been developed at the Ranch for Yoga Journal DVD's allowing users to pause the video for a selected period of time while they practice meditation. Upon completion of the interval the DVD will automatically resume where they left off.
Also a second soundtrack for extended use gives users more flexibility in a product that will last a lifetime.
For Yoga Journal Martin Kupferman was Executive Producer, Kathryn Arnold was content director, and Alan Zucker was in charge of Web and DVD-ROM content.