Guerilla Marketing in Action!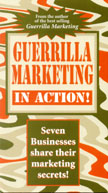 One Hour Promotional Video offers sensible tips on product and service advertising.
Guerilla Marketing in Action! sets you in the right direction. Fifty-five minutes of inspiration from small business owners who are achieving their goals with Guerilla Marketing. If you feel your business should be doing better, but are unsure how to begin marketing, this is the true story of people who have successfully marketed their product or service.
Produced by Michelson-Carlson Productions in association with Guerrilla Marketing International.